Beth Israel Lahey Health To Require COVID-19 and Influenza Vaccines for All Clinicians and Staff by Oct. 31
Cambridge, MA – Beth Israel Lahey Health (BILH) today announced that all clinicians and staff will be required to be vaccinated against COVID-19 and influenza by October 31 as a condition of employment.
'We now find ourselves at the edge of another surge in COVID cases with the growing threat of the Delta variant,' said BILH President & CEO Kevin Tabb, MD, in a video message to all BILH staff. 'We can either prolong this pandemic by giving in and giving up to our exhaustion and our frustration, or we can commit to doing everything we can to fight it. We can't give in, and we can't give up. And our profound responsibility to our patients and to each other — our moral responsibility, really — must drive the actions we take as an organization.'
The vaccination requirement will be implemented October 31, regardless of FDA authorization status. Applications for medical or religious exemptions will be considered on a case-by-case basis.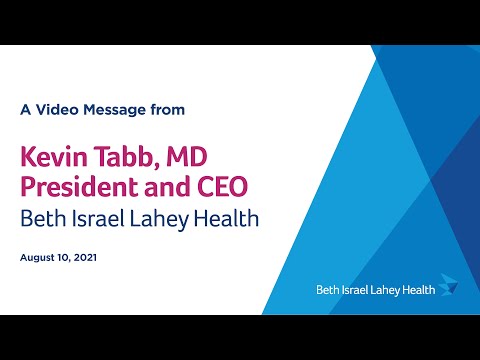 Read a transcript of Dr. Tabb's video message in the following languages:
About Beth Israel Lahey Health
Beth Israel Lahey Health is a health care system that brings together academic medical centers and teaching hospitals, community and specialty hospitals, more than 4,800 physicians and 38,000 employees in a shared mission to expand access to great care and advance the science and practice of medicine through groundbreaking research and education.